Cathy Rentzenbrink – Write It All Down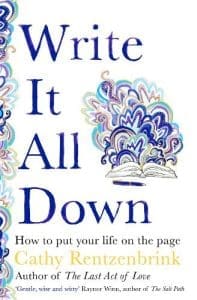 October 16
@
14:00
–
15:00
Why do we want to write and what stops us?
How does the urge to express ourselves fight with the worry that no-one will care or that we will get in trouble?
How do we identify and overcome everything that gets in our way so we can start making work?
Sunday Times bestselling author Cathy Rentzenbrink shows you how to tackle all this and more in Write It All Down, a guide to putting your life on the page. This is a kind, encouraging and stimulating book that explores the nature of memoir writing and offers helpful guidance on how to write your life on paper. Rentzenbrink will help you to discover the pleasure and solace to be found in writing; the profound satisfaction of wrestling a story onto a page and seeing the events of your life transformed through the experience of writing the self.
Perfect for both seasoned writers as well as writing amateurs and everyone in between, this helpful handbook will steer you through the philosophical and practical challenges of writing the self. Intertwined with reflections, anecdotes and exercises, Write It All Down is at once an intimate and enjoyable narrative and an invitation to share your story.
Cathy Rentzenbrink is an acclaimed memoirist whose books include The Last Act of Love, How to Feel Better and Dear Reader. Her first novel is Everyone is Still Alive and Write It All Down is a friendly and down to earth guide to writing a memoir.
Tickets £12.00/£6.00 (students)
Tickets are not available for general purchase until 26th August.
If you are a Festival Friend tickets are available from 12th August, please log in to your account here to order your tickets.