Jade McGlynn – Russia's War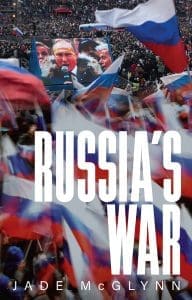 October 20
@
10:30
–
11:30
Russia's brutal assault on Ukraine has horrified the world. But many Russians appear to be watching an entirely different war—one in which they are the courageous underdogs and kind-hearted heroes successfully battling a malign Ukraine foe. Russia's War takes us on a journey into this parallel military and political universe. Through interviews with dozens of officials, elites, and ordinary citizens from Russia and Ukraine, as well as detailed analysis of Russian social media, Jade McGlynn reveals the sometimes monstrous, sometimes misconstrued attitudes behind Russian majority backing for the invasion. Treating Putin as the symptom rather than cause of Russia's many ills, Russia's War illuminates the myths, memories and myopia fueling the country's war on Ukrainians and descent into self-destruction.
Dr Jade McGlynn is a specialist in Russian media, memory and foreign policy at the Monterey Initiative in Russian Studies and Kings College London. She is the author of The Kremlin's Memory Makers and frequently writes and comments for the media, including CNN, BBC, The Times, The Spectator, Telegraph, MSNBC, The Diplomat, and Foreign Policy.
Dr Jade McGlynn will be in conversation with Allan Mallinson.
Tickets £12.00/£6.00 (students)
Tickets are not available for general purchase until 26th August.
If you are a Festival Friend tickets are available from 12th August, please log in to your account here to order your tickets.