Louise Minchen – Fearless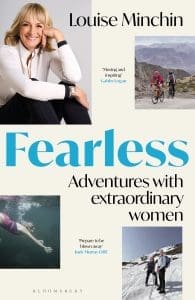 October 20
@
19:30
–
20:30
Louise Minchin went from presenting BBC Breakfast to competing for the GB Team in Triathlon in World and European Championship. In Fearless she sets out to push herself even further. Over 17 chapters, Louise embarks on terrifying, exhilarating adventures across the UK and the world to tell extraordinary women's stories and to test herself. She free dives under the ice in the dark in Finland with the first female to swim a mile in the Antarctic Circle; she cycles across Argentina with one of the world's most famous female endurance runners; she swims the shark infested water of Alcatraz with two teenage sisters; she explores the dark and wild caves deep under the earth in Somerset, and more in the name of exploring what drives these incredible women, their motivation, resilience and determination.
The book is not only a celebration of the bravery of these women, Louise is determined to bust the myth that only certain people can do incredible things and have their own adventures. In Fearless you will find women spanning all backgrounds, religions, ages, body shapes and sizes; older women, younger women, women with disabilities and more – all doing remarkable things that Louise wants to tell the world about. Fearless is a roller coaster of highs and lows, with fascinating and thrilling moments
including ones when Louise fears for her life. It will leave you feeling empowered and inspired to get out there yourself – fearless, in fact!
Louise Minchin is a much-loved TV presenter, journalist, author and athlete. She presented the UK's most successful morning television programme BBC Breakfast for two decades. She is the host of the toprated podcasts, Push Your Peak and Her Spirit. Louise is Chair of the 2023 judging panel for the prestigious The Women's Prize for Fiction. Throughout her career, she has used her profile and voice to champion women's stories and to push for change raising awareness of the menopause, mental health, women's safety and more. A lover of adventure herself, at the age of 45, Louise was inspired to take up triathlon after a BBC Breakfast challenge. Three years later she represented her age-group in the World and European Championships.
Tickets £12.00/£6.00 (students)