Victoria Hislop – The Figurine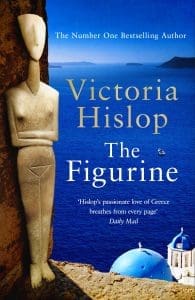 October 14
@
14:00
–
15:00
In her irresistible new novel, Sunday Times No 1 bestselling author Victoria Hislop shines a light on the questionable acquisition of cultural treasures and the price people – and countries – will pay to cling on to them.
Of all the ancient art that captures the imagination, none is more appealing than the Cycladic figurine. An air of mystery swirls around these statuettes from the Bronze Age and they are highly sought after by collectors – and looters – alike.
When Helena inherits her grandparents' apartment in Athens, she is overwhelmed with memories of the summers she spent there as a child, when Greece was under a brutal military dictatorship. Her remote, cruel grandfather was one of the regime's generals and as she sifts through the dusty rooms, Helena discovers an array of valuable objects and antiquities. How did her grandfather amass such a trove? What human price was paid for them?
Helena's desire to find answers about her heritage dovetails with a growing curiosity for archaeology, ignited by a summer spent with volunteers on a dig on an Aegean island. Their finds fuel her determination to protect the precious fragments recovered from the baked earth – and to understand the origins of her grandfather's collection.
Helena's attempt to make amends for some of her grandfather's actions sees her wrestle with the meaning of 'home', both in relation to looted objects of antiquity … and herself.
Best-known for her evocative and thoroughly researched historical novels, set against the backdrop of southern Europe – particularly Greece – Victoria Hislop is one of the UK's bestselling novelists. She worked as a journalist and in publishing before writing her first novel, The Island, inspired by her love of Greece. Widely considered a modern classic, the novel – which follows four generations of a family on the leper colony island of Spinalonga, off the coast of Crete – was an instant hit with Waterstones booksellers and became an international bestseller. Since then she has continued to dominate bestseller lists, with books including The Return, The Thread, The Sunrise and Carte Postales from Greece and Those Who Are Loved.
Victoria Hislop will be in conversation with Lulu Taylor
Tickets £12.00/£6.00 (students)