Adam Sisman – The Secret Life of John Le Carré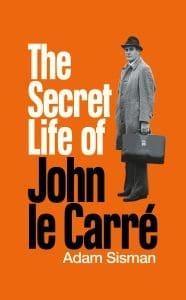 October 21
@
16:00
–
17:00
Adam Sisman's biography of John le Carré, published in 2015, provided a revealing portrait of this fascinating man; yet some aspects of his subject remained hidden. Nowhere was this more so than in his private life. Apparently content in his marriage, the novelist conducted a string of love affairs over five decades. To these relationships he brought much of the tradecraft that he had learned as a spy – cover stories, cut-outs and dead letter boxes. These clandestine operations brought an element of danger to his life, but they also meant deceiving those closest to him. Small wonder that betrayal became a running theme in his work.
In trying to manage his biography, the novelist engaged in a succession of skirmishes with his biographer. While he could control what Sisman wrote about him in his lifetime, he accepted that the truth would eventually become known. Following his death in 2020, what had been withheld can now be revealed.
Adam Sisman said: 'There was much that I was obliged to withhold from my biography of John le Carré, published in 2015 while my subject was very much alive and looking over my shoulder. I came to realise that his turbulent personal life, which he wanted to keep private in his lifetime, was key to an understanding of his work. His son Simon urged me to keep a secret annexe for publication after his father's death. The Secret Life of John le Carré is based on that annexe. It shows how le Carré conducted his affairs like espionage operations, running women as if they were agents. The tension involved became a necessary drug to his writing. The book illuminates a hidden life of secrecy, passion and betrayal. In the process it reveals a different John le Carré. Now that he is dead, we can know him better.'
Adam Sisman is the author of Boswell's Presumptuous Task, winner of the US National Book Critics Circle Award for Biography, and the biographer of John le Carré, A. J. P. Taylor and Hugh Trevor-Roper. Among his other works are two volumes of letters by Patrick Leigh Fermor. He is a Fellow of the Royal Society of Literature and an Honorary Professor at the University of St Andrews.
Adam Sisman will be in conversation with Danny Danziger.
Tickets £12.00/£6.00 (student)
Tickets are not available for general purchase until 26th August.
If you are a Festival Friend tickets are available from 12th August, please log in to your account here to order your tickets.