Cat Jarman – The Bone Chests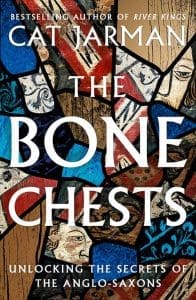 October 21
@
17:30
–
18:30
In 1642, William Waller and his Parliamentarian army came to Winchester with destruction on their minds. They forced entry to the magnificent cathedral that had stood on the site for over 600 years and began to smash things.
In the cathedral's holiest place, ten beautiful mortuary chests rested as they'd done since the 7th century. In search for treasure, the soldiers ripped open the lids and when all they found were bones, they flung them at the great West Window, destroying the 14th-century-stained glass with its sacred images of the Virgin Mary and St Peter. The desecration was total – blood, glass, bayonets, bones all scattered underfoot. The chests housed the mortal remains of West Saxon kings, saints and bishops; of Queen Emma of Normandy, William Rufus, Harthacnut, Edmund Ironside and Edward the Confessor. As the soldiers left, local people picked through the damage, gathering the glass and hiding the bone chests for safekeeping.
Six chests remain today – with a jumble of the original bones. In 2014 they were opened for the first time to anthropologists and archaeologist, photographed and catalogued so that the exact position of each individual item is a matter of record. Since then, cutting edge science, including isotope analysis, carbon dating and DNA analysis has revealed astonishing new insights. In Bone Chests, bestselling author of River Kings, Cat Jarman builds on evidence from these bones of the men and women who witnessed and orchestrated the creation of England, fuelled and fortified by the actions of invading and settling Vikings, to tell an unforgettable new account of this early period of history. This is Anglo-Saxon history in technicolour, with an important revisionist take on the role of women.
Dr Cat Jarman is a bioarchaeologist and field archaeologist specialising in the Viking Age, Viking women, and Rapa Nui. She uses forensic techniques like isotope analysis, carbon dating, and DNA analysis on human remains to untangle the experiences of past people from broader historical narratives.
Dr Jarman has contributed to numerous TV documentaries as both an on-screen expert and historical consultant, including programmes for the BBC, Channel 4, History, Discovery, and more.
Dr Cat Jarman will be in conversation with Allan Mallinson.
Tickets £12.00/£6.00 (student)