Lemn Sissay – Let The Light Pour In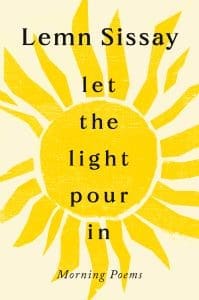 October 21
@
19:30
–
20:30
For the past decade, Lemn Sissay has composed a short poem as dawn breaks each morning. Life-affirming, witty and full of wonder, these poems chronicle his own battle with the dark and are fuelled by resilience and defiant joy. Let the Light Pour In is a collection of the best of these poems, and a book celebrating this morning practice. 'How do you do it?' said night 'How do you wake up and shine?' 'I keep it simple,' said light 'One day at a time.'
Lemn Sissay OBE is a poet playwright, memoirist performer and broadcaster. He has read on stage throughout the world, from The Library of Congress in The United States to Addis Ababa in Ethiopia, from the Opera House of Dubai to London Palladium. Lemn was awarded The Pen Pinter Prize in 2019 when his memoir 'My name Is Why' reached number one in The Sunday Times bestseller list.
Lemn was Chancellor of The University of Manchester until 2022 and is now Honorary Chair of Creative Writing. His Landmark Poems in public spaces can be seen throughout Manchester and London at venues such as The Royal Festival Hall as well as at The British Council in Addis Ababa.
Lemn was the first poet commissioned to write for the London Olympics 2012. He has judged many literary competitions including 2020 Booker Prize, The Gold Man Booker Awards, and The National Poetry Competition.
Lemn was named MBE for services to literature by The Queen in 2014 and in 2021 he received an OBE for services to Literature and Charity.
Tickets £12.00/£6.00 (student)