Anna Murphy – Destination Fabulous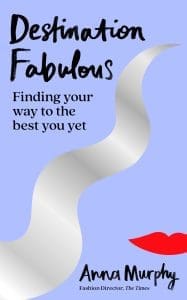 October 21
@
12:00
–
13:00
From the Fashion Director of The Times comes a wise, inspiring and invigorating guide to making the most of life as a grown-up woman – from the practical (how to dress your best) to the existential (how to feel your best).
At 50, Anna Murphy feels more visible than at any point in her life to date. Her new book, Destination Fabulous, is the toolkit you need to embrace your age and celebrate the wisdom and inner beauty that comes with it.
It's not about impossible goals. It's not about running a marathon (unless you want it to be). It's not about denying the ageing process, nor attempting to erase its signs. It's not about letting everything go, either. It's about balance. It's about the possible and the present. And it's about the future you want.
How do you lift and smooth your face naturally? Should you go grey, and, if so, how? How do you deal with menopause?
Anna combines her knowledge from years of writing about fashion and beauty with her openness to the alternative ways of thinking found in disciplines such as yoga and Chinese medicine. For her natural is always best.
As a leading fashion editor, Anna knows that clothing can be the ultimate route into surfacing the true you. She shares all her tricks for finding your way to a wardrobe that will transform not just the way you look but the way you feel. And she shares the highlights of her conversations over the years with super-stylish agers such as Iris Apfel and Miuccia Prada.
How have they got it right?
Drawing on the wisdom of writers as diverse as Pema Chodron and Eckhart Tolle, Dorothy Rowe and Osho, Nora Ephron and Mary Oliver, she writes about saying goodbye to what doesn't serve you and welcoming what does; about forging relationships that work for you as well as others; and about finding your purpose, whether in your personal or professional life. Discover how the bumps on her road have
helped her find her way to her true path. Her hope is that this book will help you to find yours, too.

As Fashion Director of The Times, it goes without saying that Anna Murphy is passionate about what we wear. The author of How Not to Wear Black believes strongly that the supposedly superficial act of choosing what to put on every morning can have a profound impact not just on how we look, but how we feel. Her years of writing and research, plus her own life experience, have also opened Anna up
to fresh thinking around beauty, diet and exercise, and – overarching all of it – the best ways to live a life that is contented and fulfilled, especially as you grow old.
Anna Murphy joined The Times as fashion director in 2015, having been the launch editor of Stella at The Sunday Telegraph. She has interviewed the industry's biggest names and done everything from wearing a frock made of bin bags to attempting the Angelina leg pop.
Anna Murphy will be in conversation with Lulu Taylor
Sponsored by Domvs
Tickets £12.00/£6.00 (student)
Tickets are not available for general purchase until 26th August.
If you are a Festival Friend tickets are available from 12th August, please log in to your account here to order your tickets.