Miles Johnson – Chasing Shadows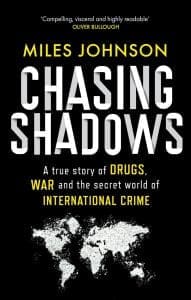 October 21
@
10:30
–
11:30
**Event Cancelled** We regret to say that this event has been cancelled. If you have purchased tickets, please contact us for a refund.
A true story of drugs, war and the secret world of international crime. McMafia meets Narcos and the dark side of globalisation set in the US, Italy, Colombia and the Middle East.

A compulsive true crime thriller about modern-day international drugs trafficking, terrorism and geopolitical intrigue following an investigation driven by one DEA agent, Jack Kelly.
Three very different men battle to control their destinies as they hurtle through the hall of mirrors of the global shadow economy.
Jack Kelly, a veteran US Drug Enforcement Administration agent, tasked with following a trail of dirty money across continents from a top-secret investigative unit based in Virginia.
Salvatore Pititto is an ambitious Mafia capo working on a vast cocaine shipment who becomes unexpectedly pulled into an arms-smuggling conspiracy.
Mustafa Badreddine is a ghost-like master terrorist wanted by governments across the world who has been secretly dispatched to Syria for his final mission.
Each man, born in radically different circumstances in the 1960s, is in his own way grappling with the powerful and unstoppable forces that shape the world around us; forces which topple governments, send refugees fleeing across borders, and put guns in the hands of mercenaries and militias. Each has devoted his whole life to an institution-the DEA, the Mafia and the Lebanese militant group Hezbollah-and each will eventually be destroyed or betrayed by the thing they believe in the most.
Set during 2015 and 2016, as the global order began to implode under the pressures of the Syrian civil war and the European refugee crisis, CHASING SHADOWS looks back over the historical conflicts, events and personal histories that have shaped the lives of these three men. It's a book that shows the betrayals, the disillusionment and the violence as Jack Kelly hunts down his targets.
Tickets £12.00/£6.00 (student)
Tickets are not available for general purchase until 26th August.
If you are a Festival Friend tickets are available from 12th August, please log in to your account here to order your tickets.