Damien Lewis – SAS Great Escapes II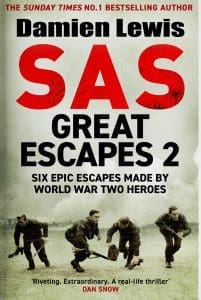 October 17
@
18:00
–
19:00
Million-copy bestselling author Damien Lewis has established himself as one of the most popular WWII historians, and this book builds on the success of SAS Great Escapes which has sold more than 40,000 copies in just over a year. SAS Great Escapes II reveals how SAS men crossed deserts, evaded hunter forces and escaped through enemy lands, overcoming insurmountable odds in WWII.
He tells the stories of:
Legendary SAS figure Bill Fraser and his six-man patrol, listed as Missing in Action after failing to return from a desert raid. Nine weeks later they emerged from a death-defying trial, being greeted as if they were 'back from the dead'.
The eccentric yet gifted SAS commander Lord George Jellicoe and his small band of piratical raiders who attacked the heavily guarded German aerodrome at Heraklion, Crete, blowing up dozens of warplanes.
Malcolm Pleydell, the SAS medic who undertook a 1000-mile Saharan escape, being hunted all the way, facing horrific decisions as to who to save and who to abandon.
SAS founder David Stirling who attempted one of the most audacious missions of the war – to drive across the war-torn expanse of North Africa, to link up with advancing American forces.
John Tonkin commander of Operation Bulbasket, a 40-strong party tasked to halt in its tracks the notorious SS Panzer Division Das Reich.
Herbert Castelow who parachuted into France, charged to sabotage a key airbase escaping on the local village butcher's bike
Damien Lewis's extensive research captures these never-before-told stories, relying upon the generous time, help, personal archives, memorabilia and collections of the family members of those portrayed, as well as individual interviews, and access to newly-released wartime files held in the National Archives and elsewhere.
Damien Lewis worked as a war and conflict reporter for the world's major broadcasters, reporting from across Africa, South America, the Middle and Far East and winning numerous awards. His books include the World War Two classics The Ministry of Ungentlemanly Warfare, Hunting the Nazi Bomb, SAS Nazi Hunters, SAS Ghost Patrol, SAS Italian Job, SAS Band of Brothers, SAS Brothers in Arms and SAS Great Escapes. Many of his books have been made, or are being made, into movies or TV drama series or adapted as plays for the stage. The Ministry of Ungentlemanly Warfare is presently being filmed as a major movie directed by Guy Ritchie, and starring Henry Cavill, Alan Richson, Henry Golding, Eiza González, amongst others. He has raised tens of thousands of pounds for charitable concerns connected with his writing.
Sponsored by Grassby & Sons
Tickets £12.00/£6.00 (students)
Tickets are not available for general purchase until 26th August.
If you are a Festival Friend tickets are available from 12th August, please log in to your account here to order your tickets.