Peter Hart – Footsloggers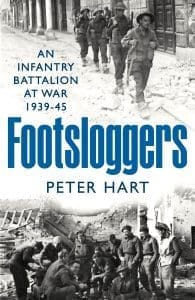 The Ben Shephard Memorial Lecture
October 17
@
16:00
–
17:00
An Infantry Battalion at War, 1939
The only way to truly understand what it was like to fight in the Second World War is to listen to the experiences of those men who were there. And often, there was nowhere more dangerous than on the ground.
In Footsloggers, Peter Hart reconstructs one infantry battalion's war in staggering detail. Based on his interviews with members of the 16th Durham Light Infantry, Hart bears witness not only to their comradeship, suffering, dreadful losses and individual tragedies, but also their courage and self-sacrifice as they fought their way across North Africa, Italy and Greece. It might be said that they were an 'ordinary' battalion, but there was nothing ordinary about the experiences they collectively faced in the war against fascism. Most of the men were civilians until the onset of war threw them into the maelstrom; few of them ever considered themselves as natural soldiers. They had to learn from scratch the fundamentals of military discipline and acquire the manifold skills required of the infantryman. Some learnt quickly and prospered; far more struggled in this harsh environment, enduring untold privations and humiliations. But most did in the end become effective soldiers, capable of facing their opponents
serving the Third Reich.
This is a human look at the inhuman nature of war from the acclaimed author of At Close Range and Burning Steel.
Peter Hart was the oral historian at the Imperial War Museum for nearly 40 years. A prolific military history author, he has appeared in various television programmes, acted as a guide for the army, runs his own battlefield tour company and has a successful weekly podcast series Pete & Gary's Military History.
Ben Shephard (1948-2017) was a writer, historian, lecturer and TV producer – The World at War and The Nuclear Age. Ben had a lifelong interest in the history of psychiatry and he studied the psychological effects of war in a series of highly regarded books, A War of Nerves – about PTSD, After Daybreak – the liberation of Belsen and The Long Road Home – the resettlement of displaced persons after WW2. This lecture remembers Ben's life and work.
Sponsored by Sue Shephard
Tickets £12.00/£6.00 (students)