Her Honour Wendy Joseph KC – Unlawful Killings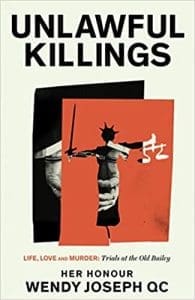 October 17
@
14:00
–
15:00
Detailing six high profile murder and manslaughter cases over which they have presided, an Old Bailey judge reveals the inner workings of a crown court and how we should all be invested in the judicial process that transforms so many ordinary lives.
Every day in the UK lives are suddenly, brutally, wickedly taken away. Victims are shot or stabbed. Less often they are strangled or suffocated or beaten to death. Rarely they are poisoned, pushed off high buildings, drowned or set alight. Then there are the many who are killed by dangerous drivers, or corporate gross negligence. There are a lot of ways you can kill someone. I know because I've seen most of them at close quarters.
As one of just a few judges licensed to try murder cases at the Old Bailey, the author has presided over many of the high-profile cases that all too often grab our attention in dramatic media headlines – for every unlawful death tells a story. But, unlike most of us, a judge doesn't get to turn the page and move on. Nor does the defendant, or the family of the victim, nor the many other people who populate the court room.
Peeling apart six dramatic murder and manslaughter cases, Unlawful Killings removes this distinction between 'them' and 'us'. By detailing the inner workings of the Old Bailey and UK law, the author makes clear that each of us has a vested interest in what happens in the court room – especially when it comes to the death of a fellow human being. Any one of us could end up in the witness-box or even in the dock. And yet most people have only the sketchiest idea of what happens inside a Crown Court.
When Wendy Joseph move to the Old Bailey in 2012 she was the only woman amongst 16 judges and the third woman ever to hold a permanent position at the Old Bailey.
Wendy Joseph will be in conversation with Jason Goodwin.
Sponsored by Michael and Eve Bonham Cozens
Tickets £12.00/£6.00 (students)