Joanna Quinn – The Whalebone Theatre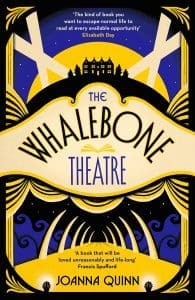 October 17
@
12:00
–
13:00
A ravishing coming-of-age story set in the shadow of an oncoming war, The Whalebone Theatre fizzes with invention and compassion as an 'unmarriageable' girl elects to defy convention and find her own path through life.
"Maudie, why are all the best characters men?"
Maudie closes the book with a clllump. "We haven't read all the books yet, Miss Cristabel. I can't believe that every story is the same."
Cristabel Seagrave has always wanted her life to be a story, but there are no girls in the books in her dusty family library. For an unwanted orphan who grows into an unmarriageable young woman, there is no place at all for her in a traditional English manor.
But from the day that a whale washes up on the beach at the Chilcombe estate in Dorset, and twelve-year-old Cristabel plants her flag and claims it as her own, she is determined to do things differently. With her step-parents blithely distracted by their endless party guests, Cristabel and her siblings, Flossie and Digby, scratch together an education from the plays they read in their freezing attic, drunken conversations eavesdropped through oak-panelled doors, and the esoteric lessons of Maudie their maid.
But as the children grow to adulthood and war approaches, jolting their lives on to very different tracks, it becomes clear that the roles they are expected to play are no longer those they want. As they find themselves drawn into the conflict, they must each find a way to write their own.
Joanna Quinn grew up in Dorset where the best-selling Whalebone Theatre is set. She has worked in the charity sector and journalism. The Whalebone Theatre is her first novel and was a book club pick from the Queen Consort's Reading Room.
Joanna Quinn will be in conversation with Helen Stiles
Sponsored by the Thomas Hardy Society
Tickets £12.00/£6.00 (students)
Tickets are not available for general purchase until 26th August.
If you are a Festival Friend tickets are available from 12th August, please log in to your account here to order your tickets.