Justine Picardie – Chanel The Legend and the Life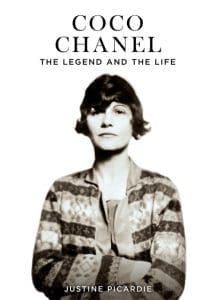 October 19
@
14:00
–
15:00
Justine Picardie spent years puzzling over the truth about Coco Chanel, peeling away the accretions of romance and lies. Since its publication in 2010, hers has become the definitive Chanel biography. To coincide with a major exhibition at the Victoria & Albert Museum her new edition delves even deeper into the life and legacy of this eternally alluring woman.
Coco Chanel was an extraordinary inventor – she conjured up the little black dress, bobbed hair, trousers for women, contemporary chic, best-selling perfumes, and the most successful fashion brand of all time – but she also invented herself, fashioning the myth of her own life with the same dexterity as her couture.
While Chanel was supreme innovator and vendor of all things elegant and beautiful, what lies beneath her own glossy myth is far darker. Throwing new light on her passionate and turbulent relationships, this beautifully constructed portrait gives a fresh and penetrating look at how Coco Chanel made herself into her own most powerful creation.
Justine Picardie brings the mysterious Gabrielle Chanel out of hiding, to celebrate her great achievements. She examines Chanel's enduring afterlife, as well as her remarkable life, uncovering the consequences of what she covered up, unpicking the seams between truth and legend, yet keeping intact the real fabric of her past.
Justine Picardie is the author of six acclaimed books. She is a contributing editor to Harper's Bazaar, having previously been its editor-in-chief. She was formerly an investigative journalist for the Sunday Times, a columnist for the Telegraph, editor of the Observer Magazine and features director of Vogue.
Tickets £12.00/£6.00 (students)
Tickets are not available for general purchase until 26th August.
If you are a Festival Friend tickets are available from 12th August, please log in to your account here to order your tickets.