Stephen Anderton – The Lives of the Great Gardeners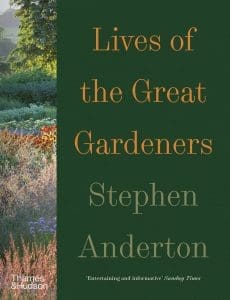 October 19
@
12:00
–
13:00
The lives of 40 men and women behind some of the world's most exciting gardens. Throughout history great gardeners have risen from all walks of life. Some have been aristocratic amateur gardeners, others professional designers with an international practice. Some have come to garden-making from sister arts such as sculpture or painting; others have been hands-on nurserymen or botanists. What they all have in common is the ability to take an idea and develop it in a new manner relevant to their times.
The book contains four sections. 'Gardens of Ideas' moves from the politically allusive gardens of 18th-century England made by men such as William Kent, to Charles Jencks's Scottish garden inspired by 21st-century cosmography. 'Gardens of Straight Lines' explores the lives of the great formalist gardeners, from Le Nôtre at Versailles to the rational English minimalism of contemporary designer Christopher BradleyHole. 'Gardens of Curves' begins with that great exponent of the English landscape
garden, 'Capability' Brown, and leads to the extraordinary Brazilian designer Roberto Burle Marx. Finally, 'Gardens of Plantsmanship' moves from the father of naturalistic planting, William Robinson, to the sweeping prairies of New York's favourite Dutch designer, Piet Oudolf.
Author Stephen Anderton is a journalist, author, lecturer and broadcaster. Best known as The Times's long-standing writer on gardens and gardening (for which he has three times won first prize in the Garden Writers' Guild awards), he worked for many years on the care and restoration of historic gardens, latterly as National Gardens Manager for English Heritage. His books include Discovering Welsh Gardens and Christopher Lloyd: Great Dixter.
Stephen Anderton will be in conversation with Vanessa Berridge.
Sponsored by Monart Spa
Tickets £12.00/£6.00 (students)