Nigel Biggar – Colonialism: A Moral Reckoning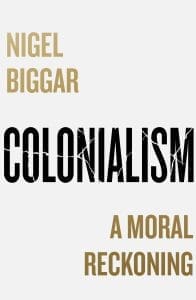 October 18
@
16:00
–
17:00
A RIGOROUS EXAMINATION OF THE WEST'S COLONIAL RECORD WHICH SEEKS TO BRING BALANCE TO OUR PERSPECTIVE OF COLONIALISM'S IMPACT
In the wake of the dissolution of the Soviet empire in 1989, many believed that we had arrived at the 'End of History' – that the global dominance of liberal democracy had been secured forever. Now however, with Russia rattling its sabre on the borders of Europe and China rising to challenge the post-1945 world order, the liberal West faces major threats. These threats are not only external. Especially in the Anglosphere, the 'decolonisation' movement corrodes the West's self-confidence by retelling the history of European and American colonial dominance as a litany of racism, exploitation, and massively murderous violence.
Nigel Biggar tests this indictment, addressing the crucial questions in eight chapters: Was the British Empire driven primarily by greed and the lust to dominate? Should we speak of 'colonialism and slavery' in the same breath, as if they were identical? Was the Empire essentially racist? How far was it based on the theft of land? Did it involve genocide? Was it driven fundamentally by the motive of economic exploitation? Was undemocratic colonial government necessarily illegitimate? and, Was the Empire essentially violent, and its violence pervasively racist and terroristic?
As encyclopaedic in historical breadth as it is penetrating in analytical depth, COLONIALISM offers a moral inquest into the colonial past, forensically contesting damaging falsehoods and thereby helping to rejuvenate faith in the West's future.
NIGEL BIGGAR is Regius Professor Emeritus of Moral and Pastoral Theology at the University of Oxford, where he directs the McDonald Centre for Theology, Ethics, and Public Life. Before assuming his professorship at Oxford, he occupied chairs at the University of Leeds and at Trinity College, Dublin. His most recent publications include What's Wrong with Rights?, Between Kin and Cosmopolis: An Ethic of the Nation, and In Defence of War. He was appointed CBE in 2021.
Tickets £12.00/£6.00 (students)