Tim Marshall – The Future of Geography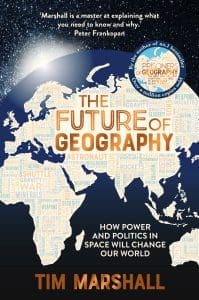 October 18
@
14:00
–
15:00
Space: the new frontier, a wild and lawless place. It is already central to communication, military strategy and international relations on Earth. Now, it is the latest arena for human exploration, exploitation – and, possibly, conquest. China, the USA and Russia are leading the way. The next fifty years will change the face of global politics.
With all the insight and wit that have made Tim Marshall the UK's most popular writer on geopolitics, this gripping book shows that politics and geography are as important in the skies as on the ground, covering great-power rivalry; technology; commerce; combat in space; and what it all means for us down on Earth. This is essential reading on power, politics and the future of humanity. 'Many of us still think of space as 'out there' and 'in the future'. But it's here and now – the border into the great beyond is well within our reach. Astropolitics is an integral part of international relations, especially for the major powers. I wanted to write a book putting space into its historical, political and military context, and to help us to imagine space as a place with geography which we need to understand. There's also the sheer majesty and beauty of the universe, and in the book, from time to time, I stand aside, put aside the politics, and marvel.'
Tim Marshall is a leading authority on foreign affairs with more than 30 years of reporting experience. He was diplomatic editor at Sky News, and before that was working for the BBC and LBC/IRN radio. He has reported from 40 countries and covered conflicts in Croatia, Bosnia, Macedonia, Kosovo, Afghanistan, Iraq, Lebanon, Syria and Israel. He is the author of the No. 1 Sunday Times bestsellers Prisoners of Geography: Ten Maps that Tell You Everything You Need to Know About Global Politics (which has sold over 2 million copies worldwide) and The Power of Geography: Ten Maps that Reveal the Future of Our World.
Tim Marshall will be in conversation with Michael MacCarthy.
Tickets £12.00/£6.00 (students)
158 people are attending Tim Marshall – The Future of Geography
Who's coming?
158 people are attending Tim Marshall – The Future of Geography